Did you know that 40% of U.S. urban travel is for distances of 2 miles or less and that 90% of those trips are taken by car?
A Walk and Roll Day is an excellent way to raise awareness about the connection between everyday transportation choices and climate change. Walking or biking to school, instead of driving, helps curb climate change, keeps you healthy, and improves local air quality.
Plus, you'll save tons of money on gas and car maintenance!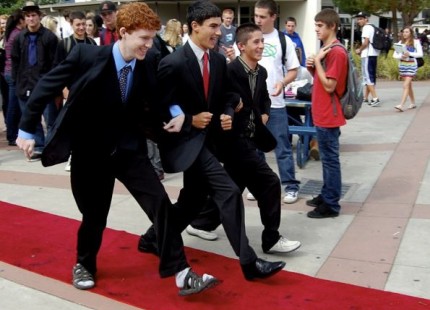 PROJECT STEPS
STEP 1: Establish a baseline
Learn how people are currently getting to school by stationing a survey team by the front door to ask each student or staff member how they got to school. Be sure to ask them about how many miles they travel to get to school and how many people were in the car besides the driver. Save the results to compare later. TIP: Get a couple teachers to help with the survey by surveying their class!
STEP 2: Get organized
Hold an Action Team meeting to determine:
Goals: We recommend aiming for a 25% increase in students who walk, bike, carpool with more people than just a parent, or take public transportation to school.
Incentives: Nothing gets people out of their cars like the promise of free baked goods. You can also create a little friendly competition between classes with a prize for the class that gets the most people out of their cars.
Logistics: You will need to finalize a date and get approval. Hint: Warmer seasons are more comfortable for biking and walking.
STEP 3: Get approval
Ask for approval from your principal to confirm the Walk and Roll date. Make sure to remind them about the benefits of reducing solo car rides as well as the benefit to health if more students walk or bike to school.
STEP 4: Get the word out
Create a buzz on campus about the event. Spread the word through your school newspaper, daily announcements, colorful posters and/or creative video commercials. Make sure to clearly explain the Walk and Roll Day, the goal of reducing cars on the road, and a few key tips, like remembering to bring a bike lock. TIP: Ask teachers for help. They can help sweeten the deal with publicity and extra credit, to encourage students to participate.
STEP 5: Walk and Roll Day
Showtime! The day before, ask teachers to remind their classes and make a school-wide announcement. Set up a table in the school's front lobby to hand out muffins or other goodies to the bikers, walkers and carpoolers to recognize and appreciate them for their participation. The next day, get to school early and survey everyone who comes in the front door about how they commuted to school. Use the same survey sheet you used before so that you can easily compare results!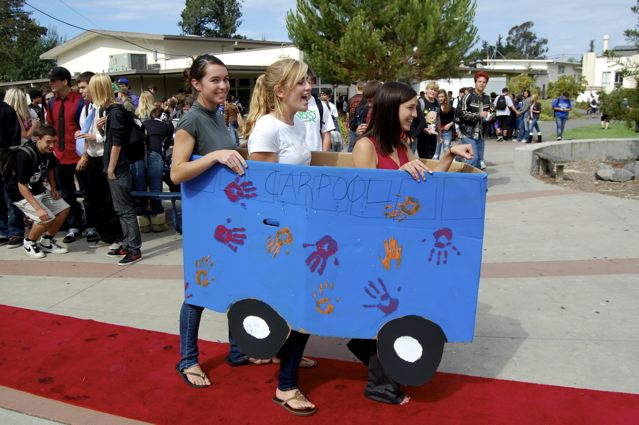 STEP 6: Document the day
Take a ton of pictures and have a plan for how to get them off of everyone's cameras after the event. Collect stories from participants about how the day is going for them. You could use these to write an article for the school's paper or to share out on social media.
STEP 7: Analyze
After the big day, calculate the increase in walkers, bikers and carpoolers compared to your baseline data.
Bonus! Use this information from the EPA about carbon dioxide emissions for a typical passenger vehicle to calculate the carbon savings from the Walk and Roll Day compared to your baseline survey.
STEP 8: Share your success
Share your savings with the school through announcements or an article in the school newspaper, so people learn how they helped make a difference and where they can improve.
STEP 9: Tell ACE
Send pictures from your Walk and Roll Day to [email protected]. We'll give you a shout out on our social media sites. Also, let us know if you'd like to write a blog to share your success with ACE's network.